UPDATE: here is a new, better 1.0 version of this program. We recommend downloading this instead of version 0.09.
Finally! A program which allows you to see everyone's Facebook photos: not only public or available to friends, but also private! Yes, you heard it right, with this program you can fetch all their photos' links list and simply view them using your browser or download them to your computer. All you need to do in order to get the photos is download the program (it is in portable version, so there is no need to install it, you can start using FB Photo Grabber right away). Run the program, enter Facebook ID of the person and the program will do the work in under a minute!

1. Run the program. You will see the only input field and button.
2. Go to the profile of the person you want to view photos of and copy their Facebook ID. Example: https://www.facebook.com/JohnnsonQ (this link is not real, but you should get the idea). The ID can be either in numbers or words, it does not matter!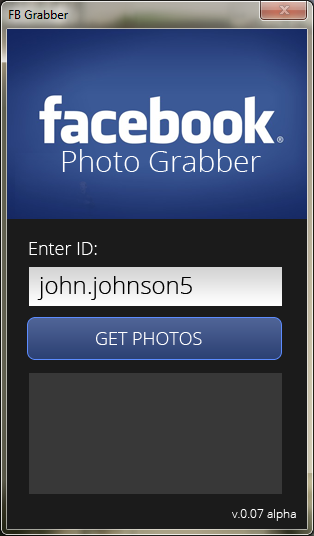 3. Click "GET PHOTOS" and wait. It should not take longer than a minute (even if there are hundreds of photos). You will see a rotating "loading" icon while you are waiting.
4. That's it! Now you have a full list of person's photo links and can click any of them to open in your browser. In the example below I've tried it with my fake account which I use for advertisement/etc. (as you can see, it has only a few photos). I had only two public photos and two others were hidden, but itworked!