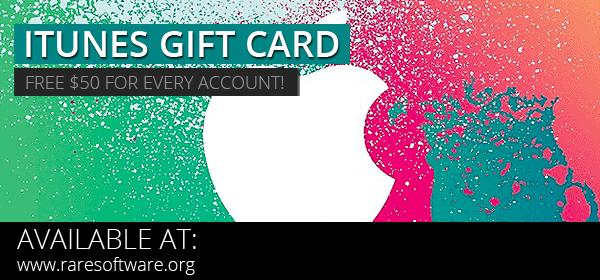 We are coming back with another great giveaway for our users! We are offering free $50 for every iTunes user to spend on any App Store, iTunes store or iBooks store item! This giveaway is available for all regions.
One iTunes account can redeem only one free code but you can generate unlimited amount of them. This means that you can gift the codes to your friends and surprise them as well!
You can spend the bonus funds without any limits. Download apps and other content from App Store, buy items on iTunes store or get books from iBooks store for free. No additional deposit is required: you can successfully use this card on an account that does not have a credit card linked to it.
Start by clicking the button below which will take you to the giveaway page. We will automatically generate a code for you. You will also have to complete a quick human verification step at the end. This is required to prevent any system abuse: there is a really high demand for the codes and we want everyone to receive them on time!

You will get the generated code sent to your email. Here is how to redeem it:
On your iOS device, go to the iTunes Store, iBooks Store, or App Store app.
Scroll to the very bottom of the main (Featured) section and find a button saying Redeem.
Enter your 16-digit code (starting with X) manually or take a photo of the image we have attached in your email.
The $50 will be added to your account balance.
If you are using a Mac or PC simply open iTunes and choose Account > Redeem at the top menu.