Have you ever been in a situation where you just forgot your Windows account password at the worst possible moment? Or maybe you bought a computer and it is locked with password? Many people have experienced this and thought it is a dead end. But little did they know that there is an easy fix for this situation! Simply apply WPW Complete Reset Pack 2.0 and you can remove the password for any Windows version! It includes password removal for Windows 98 and older, XP, Vista, 7, 8, 8.1 and Windows 10 versions. Simply put all files in USD or CD/DVD and reboot Windows. The program will do its job automatically and launch the Administrator's account without password. After that, you will be able to edit any other account easily.

INSTRUCTIONS:
Simply put all the files in a USB or CD/DVD. Then put that in the PC you want to remove password and start it.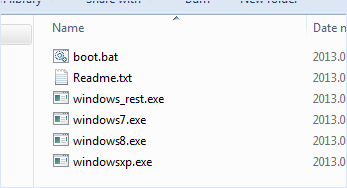 Update: now you can reset Windows 10 passwords as well. File used for Windows 10 is called windows8.exe since it has identical password reset routine as the previous OS version. Copy all files to a USB or CD/DVD and Windows will detect which version is suitable and launch the program automatically.